ND15: Live blog
Rolling updates from the tenth National Digital Conference.
25 June 2015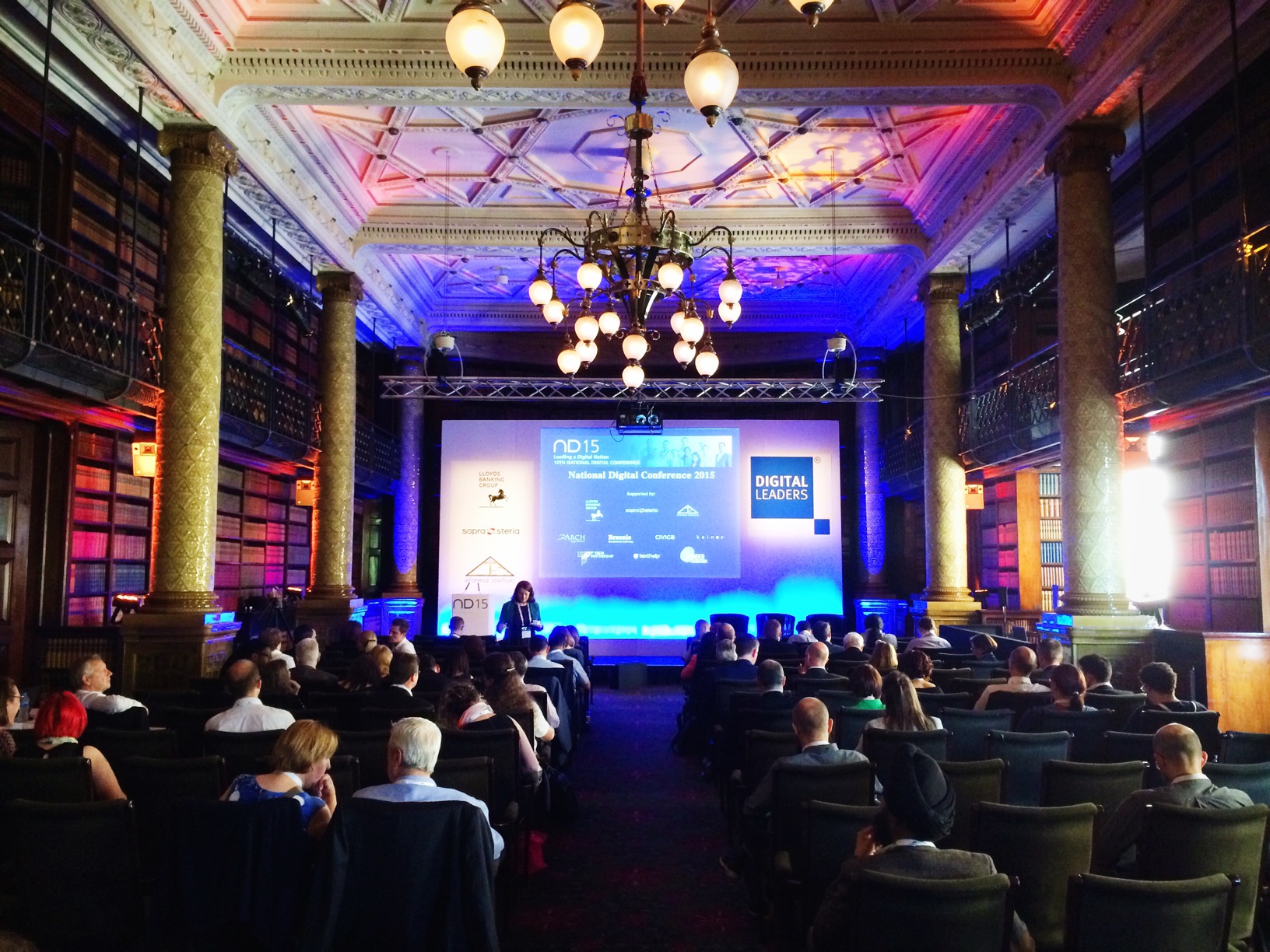 I'm in London today for the tenth National Digital Conference. The plan is to post thoughts here throughout the event, and on Twitter via #DigiLeaders #ND15. I'll do my best to balance speed and accuracy, but if things need correcting just let me know.
---
Mark is going to guide us through the discussions today on the theme of leading a digital nation. Digital is all about engaging, involving and empowering people!
Rachel says that ten years of digital conferences shows clearly that digital isn't a flash in the pan. In 2005 there were no iPhones, no Twitter, and only half of households had broadband. Now we're talking about wearables, biometrics, the dark web… but some things haven't changed. In particular:
Too many people are digitally excluded
The gender divide in tech is still a problem
Too many businesses don't have the skills to thrive online
Bravo. Let's hope today's speakers tackle all of this head on.
---
Session 1: Leading a digital nation
@MattHancockMP, Minister for the Cabinet Office
Matt starts by noting that most of the people in the room are are carrying a profound symbol of digital transformation: a smartphone. In 1980 the components would have cost $3.6 million! Now we've all got one.
One of the biggest questions for our nation is this: how do we use this technology to improve people's lives?
On digital government:
Digital allows more personalisation than paper-based services (Matt gives the example of detecting IP addresses when people apply for benefits, and asking more questions if the origin is overseas but sparing the rest of us)
The standard should be digital government in step with or ahead of the private sector, not behind
Government as a platform should enable massive savings across departments by reusing common services for transactions (e.g. status tracking)
We must pave the paths that people take (e.g. GOV.UK shows the right local page when you search for council tax)
People aren't rational the way neoclassical economics wants them to be. Now we can use digital to test solutions to difficult, knotty policy problems on a representative sample of users, use insights from data, iterate and iron out problems
In summary: Users first, platforms > silos, transform services > improve services.
Matt closes by reminding us that the world marches on. The next symbol of transformation isn't the iPhone, it's the Apple Watch (and it looks like he's wearing one).
Update: here's the full text of Matt's speech.
Audience Q&A
How will we measure progress?
Two metrics (a) citizen satisfaction with services, (b) value for money.
How can the sharing economy improve lives?
Government must make sure regulation for the wider economy keeps pace with the digital world.
We can use the web to find hotels and restaurants, but not to find help and support for people who are most in need. Will government create a platform for this?
Yes. It's about (a) digital skills and the work of Go ON UK, etc. and (b) using what we do in government to make life easier according to people's needs (e.g. transformed lasting power of attorney process).
Mostly familiar stuff on user needs and government as a platform, but that's no bad thing - it's good to see continued strong political leadership for GDS. The suggestion that we apply digital methods to enable a new approach to policymaking is interesting and the first time I've heard a minister talk seriously about trying this.
John asks how equipped the civil service is to deliver digital government? Results from a major survey of staff (2,000+ respondents) to be published today.
Key points:
Understanding: 1/3 say digital is a major focus
Value: 67% think the public will get benefit from digital
Planning: £15bn savings over this Parliament is daunting
Progress: only 39% use customer data to help design services
Government as a platform is a big opportunity but also a major challenge. We will need to address cultures as well as technologies. We need to measure success, and to shout about it - don't be so British!
Update: download a copy of the report (PDF).
Culture change is, and will continue to be, the hardest part of the digital agenda for government. The need to focus on users applies just as much to public servants doing their day-to-day jobs as to citizens interacting with the state.
Elizabeth says the UK is a global leader in digital, and other countries look to us (e.g. GDS replicated in the USDS). But we can't rest on our laurels. Priorities for government:
Structural reforms to enable companies to invest, grow and export
Balance support for start-ups and scale-ups
Next generation digital services that are end-to-end and context-sensitive
Improve skills and culture
New partnership models and consortia to get things done
---
Session 2: Digital leadership
Sue: Sounds like government has things sorted, so what's the problem?
Martha: It all makes sense, but the big win is achieving universality. In other words, join up the infrastructure (NB: 75% of people don't get the broadband speeds they pay for), digital skills, public services.
Sue: How?
Martha: We need to be more ambitious. Where's the big national plan for digital, and who owns it? We need to make sure there is the money - government needs to invest more, failing to do this is a false saving. And we need more talented people to get it done. If only we could join worlds like Founders Forum with the people in this room…
Sue: Experience at TechMums shows simple things can make a big difference. How do we reach all the people we need to?
Martha: We tend to overcomplicate things. We are clear that we want everyone to learn to read, and we should apply the same ambition to digital skills. Need more resources - from government, corporate partners and civil society. Not ok to say we'll stop at 95%, the ambition must by 100%. Digital skills is the foundation to solve so many of our other social and economic problems.
Sue: Surely funding this is an obvious investment?
Martha: Yes. The debate is shifting and we have better data to show the benefits. We know more than ever and we have ministers who get it, but we all need to champion the agenda.
Sue: Women in tech is still a big issue. What's your take on this?
Martha: Things like the Google diversity data show that all our hopes about the internet transforming gender balance have failed to materialise. More points of view in design teams will result in better products. We need more role models and more transparency.
Sue: What is Dot Everyone all about?
Martha: Used this year's Dimbleby Lecture to propose a new institution to help land this agenda. The idea is gaining traction and a team and partners are starting to come together to make it happen.
Sue: Does challenging the all-male panel trend at tech events matter?
Martha: Yes. First, people sometimes say one woman looks like a token gesture. Not true. Second, should have men and women selecting panels, to help avoid people just approaching people like them.
Sue: Quotas?
Martha: Can see arguments on both sides. If push came to shove, push for quotas on shortlists. What we do know is that things right now aren't working.
Audience Q&A
What's the biggest problem for women returning after having kids?
Martha: Workplace was mostly designed for men by men. Improve things like childcare, flexible working, built environment.
Sue: Need large scale attempts to help women transition back into work. All these mums with amazing skills who can't do full time, but have so much to contribute.
If my nine-year-old can do code club, why don't job centres offer it?
Martha: Yes. And more and more jobs need digital skills.
What role for arts and culture organisations to meet the digital challenge?
Martha: STEM is too exclusive! Leaders of arts and other voluntary organisations need to get digital. Find the benefits for the people involved and get them excited!
What feminine qualities do you think are needed in the tech industry?
Martha: we all have masculine and feminine qualities, and we need to explore all of these in our teams. Diversity of gender, age, experience and more all matter.
Sue: If you have just one type of person - whatever it is - it won't be the best. Diversity of all types is key.
Totally agree with Martha that we need to step up our digital ambition for the UK, and have a proper plan to get it all done at scale. And she's really very convincing that we mustn't stop at 95% when it comes to digital inclusion. Now, if someone could just boost my team's funding by 10x (or even better, 100x…).
---
Session 3: Empowering a nation of digital businesses
@nick_williams38, Consumer Digital Director at Lloyds Banking Group
Nick says Lloyds didn't start as a digital business (there was no internet in 1765). Today they are having to rethink their competitors - not so much the other banks, but Google, Apple, Uber, even Domino's. So they need to be faster, simpler and more agile. Their CDO is at the centre and the top of the organisation. And customers are driving this: more than 50% of new accounts are opened online.
But it's important to remember that some customers do not have the skills to do things online, and he says we can't allow digital exclusion to drive financial exclusion.
The Lloyds Digital Business Index sheds light on how this is playing out for other orgs. The most digitally engaged organisations have the best performance and prospects. But 25% think digital is not relevant, and another 25% think they are already doing everything they can. This is particularly important for charities, as digital could mean their survival.
Lessons: obsess about your customers and be where they are. Don't be complacent, digital can arrive quickly and locally. Make time to scale. Digital is about people, not technology.
Beyond business, Nick points to @LivesNotKnives, who are using digital to reach they people they need to, as a great example of a charity embracing digital.
It's pretty clear that small businesses need to embrace digital if they are serious about achieving growth and sustained success. The same goes for charities, both in terms of how they run themselves and how they engage with the people they want to help. But unless we change mindsets at the top of organisations then it's hard to see how we'll move things as far and as fast as we need to.
Benita says five years ago no one had heard of the sharing economy. Now, when she asks, there are loads of hands up in the room. It uses tech to help people and companies access and trade idle resources. Highlights from a recent report:
Sharing economy growing faster than Google, Facebook and Yahoo! combined
Will be worth $335 billion by 2020
Participation rates are high (28% globally, 64% in the UK)
Drivers: saving and making money, sustainability, tech, changing values, convenience
@bjgann, SVP Corporate Development at Kainos
Brian's company has worked on seven of the GDS exemplars. Usual lessons: define the service, communication, service not features, start small / fail fast, solution integrator, measurements.
30 years ago, working at Arthur Andersen, Brian was working on bringing new tools (relational databases, PCs…) and new ways of working into government. Some of the lessons from the past are the same as those from recent experience. But service not features, and start small / fail fast, are new.
Panel Q&A
How do we build trust in the sharing economy?
Benita: Levels of checking and verification vary by product / service. People also like to know about reputation, and to have insurance in place. A code of conduct can underpin this.
How did you arrive at 1 in 4 Lloyds staff as digital champions?
Nick: This is 20,000 people and it gives coverage across the country and across the business. They can talk customers through the benefits and give them reassurance.
What one single thing is the key barrier toward adoption of digital?
Brian: Lack of skills.
Nick: Culture, need to change the way organisations work and not rely on history.
Benita: Awareness.
Culture wins an audience show of hands on which is the biggest barrier, and by a country mile. Your correspondent concurs. And what's more, I spy a gap in the market: culture keeps coming up in the debate about realising the digital opportunity, but no one so far has really made any concrete proposals about how we can change it…
---
Session 4: Leading a digitally accessible nation
@JehKazimi, Founder & CEO at Breezie
Jeh is going to talk about digital and an ageing population. He says it's inspiring to see what older people can do once they have the skills to use the internet. The objective is to enjoy the opportunities and overcome the challenges of longer lives, and digital is a means to an end.
Key themes from their work:
Independence at home. Transport, food, local services need to be online
Remote monitoring. The home needs to be digital (the person in it may or may not be)
Person centred. Use tools to align services around the individual
Financial abuse and fraud. Make transactions easier to track, monitor, control
Life reimagined. Internet as enabler to do what you always want to do, but never did
Jason Gordon, Business Development Manager @texthelp
Jason says literacy is the key to success in life. But the digital divide is widening, and people on the wrong side are at ever greater risk of social exclusion. Digital inclusion should matter to everyone. Barriers that need to be overcome:
No physical access
Economic disadvantage
Low digital skills
Print disabled (20% of the population)
Solutions for opening up accessibility include specialist assistive technology, but this can be costly. Good news is that new solutions based on web technologies are changing this and making it easier to make content more responsive and accessible.
Diana Edmonds, Head of Libraries at Greenwich Leisure Limited
Diana says libraries are key to bringing digital access to people. Woolwich library is the busiest in London with 100,000 visitors a month. Gives people space to read, to study, activities, just be… but also to access the internet. Half of visitors are here to get online, and by 9:30am all the PCs and tablets are being used. There is also wireless access and plug sockets for people to bring their own devices. They also offer printing!
Classes help people use IT and gadgets, along with ad-hoc support for whatever people need (banking, job search, register with a doctor). Support comes from staff, volunteers and other customers - so digital has become a social activity.
---
Session 5: Skills for a digital nation
@edvaizey, Minister of State for Culture and the Digital Economy
Ed says he's been following the conference on Twitter, and will be watching what we have to say. I wonder whether he'll see this blog…
Main point is there's lots of talk about the future, but it's also important to ask how digital can help us in the here and now, particularly for businesses and charities. Government is refocusing digital economy policy in one department (DCMS) with a digital implementation taskforce to drive the agenda across government.
Two big priorities:
Digital single market, opening up UK businesses to a market of 500 million consumers
Digital infrastructure, building out superfast broadband across the country
Also boosting work on data analytics, the sharing economy, online safety, tech clusters.
On digital skills, the rate of change makes it hard to keep pace with what the economy needs. The UK is strong on digital skills for the economy / workplace, but we need more. Proud to be one of the first countries in the world to put coding on the curriculum. Will be renewing and refreshing the digital inclusion agenda, working with Go ON UK and against ambitious targets.
Government can't address digital skills on its own or from on high. Have to work with industry, and businesses should see themselves as "quasi-universities" and do more with apprenticeships and internships. Things like the Tech Partnership and the BBC Make It Digital campaign are also important ingredients.
Audience Q&A
The European Digital Economy and Society Index shows the UK at no. 6 out of 28 member states. How do you justify settling for this?
Important to compare ourselves against the big 5 states. Respect countries like Estonia but not sure comparing like with like if we benchmark against them.
What do we do about the cost of getting online for people who are socially excluded?
Seeing Go ON UK shortly to refresh the digital inclusion agenda from a government perspective. The debate tends to focus on skills, but we also need to focus on the cost of getting online, and ways to access the internet. There are now 1,400 public buildings that have WiFi access, and we have found the money to do this for every library as well.
Ed says government is finally developing a nascent digital department, and that department is DCMS. My view: merging the digital economy bits of DCMS and BIS is only the beginning - a true Department for Digital would need to annexe bits of the Cabinet Office, Home Office, Department for Education and beyond if we're serious about a coherent digital strategy for the UK. Perhaps he should go see the PM and pitch to become the first Secretary of State for Digital?
Update: As it happens I pondered the case for a SoS Digital this time last year, and the excellent @pubstrat has offered an alternative perspective on the topic that is also well worth reading.
@richpotter_, Innovation Director at Sopra Steria
Richard starts by showing a photo of the Occupy Central protests in Hong Kong. Significant feature is that the students self-organised using social media. And the photo itself is (a) citizen journalism and (b) actually a still from a video shot from an unlicensed drone. Could any government have realistically predicted this sort of scenario?
Second photo is a chart from recent California earthquake, but it's not seismology data, it's data from wearable technology (Jawbone). Did people realise they were sharing all this data, and how it would be used, when they clicked OK to the EULA?
Citizens will take the digital experience in whatever way they want, and it's really hard for government to anticipate and respond. Regulation is struggling to keep pace. The machines are rising, and more and more jobs are susceptible to computerisation. Speed is everything.
We can't predict the future, but we know what to invest in: technology, trade, talent.
Richard's points about the speed of digital - and in particular two-speed organisations - really resonate. Organisations of all sorts increasingly have to enable old, slow and familiar ways of working to coexist with new, fast and agile ones. And from experience I can tell you that in many places, pulling this off is really flipping hard.
---
Digital skills workshop
Four speakers each pitch two initiatives that the government could deploy to tackle digital skills. Audience vote to follow to find a preferred option to take forward!
Idea 1: Money! Invest relentlessly. There's a huge economic upside from investment in digital skills, and a huge cost for all of us if we don't. It's all very well relying on not-for-profits and volunteers and tweaking the curriculum. But it won't solve the problem. Government should invest £1 million a year for five years in five organisations (Young Rewired State, Code Club, CoderDojo, Apps for Good, Freeformers) who are focused on sorting this out.
Idea 2: Year 8 is too late. Particularly for girls. If you don't introduce digital before Year 8 (second year of senior school), they will not opt to do a computer science GCSE. It's hard enough to fit in at that point in your life, and computing at school isn't cool. So make sure kids are using digital tools at junior school, so that they are completely comfortable with digital by the time they get to Year 8.
Audience vote
Money: 50%
Year 8 is too late: 50% (casting vote from the floor for this option!)
Rachel reminds us that it's no secret that the number of women in tech is going down. 75% of people are unable to name any female leaders in tech. But a mixed gender workforce is known to improve financial performance! And remember, you don't need an academic tech background to succeed in digital. Beyond the tech industry, half of the 10.5 million people who lack basic digital skills are women. Tackling this can empower women to take on more for themselves and in their communities.
Idea 3: Publish the figures! Be transparent, understand and acknowledge the challenge for women in digital and tech, in government and beyond. Find out what's working and mentor organisations to follow best practice. Use regulation to enforce equal opportunity in recruitment etc.
Idea 4: Lead by example. Train government to avoid unconscious bias. Sort out Whitehall as an exemplar, making sure that all women have the digital skills they need. find and promote more role models. How many female digital leaders are there in government? (Hint: not many.)
Audience vote
Publish and be damned: 30%
Lead by example: 70% (winner!)
@benrrowland, Co-Founder of Agilisys Arch
Idea 5: Rapid digital ramp up. The thing that is often missing for young people is understanding of how their role fits in an organisation. They are up for it, but they don't really know what "it" is. Solution: short interventions - days or weeks, not months - to get people focused, pick up technical skills, gain industry understanding and get ready for work. Cost would be just £ hundreds per person, compared to £ thousands for existing interventions around work experience.
Idea 6: Digital business apprenticeships. Every government department to take on ten digital business apprentices with the digital skills to make government work better. Young people who really know how to use their department's CMS, can communicate, can use cloud-based tools safely, can immediately use new tools from GDS.
Audience vote
Rapid digital ramp up: 55% (winner!)
Digital business apprenticeships: 45%
Idea 7: Make every college a digital college. When computers first arrived in colleges they were transformational. But FE colleges have lost this role at the forefront of digital in communities. We should support every college with (a) an industry-designed curriculum, (b) short courses for part-time students, and (c) a training programme to get staff up to speed.
Idea 8: A register of digital experts. Create a badge to signal digital capability. The current market is completely chaotic when it comes to who to trust for help. And there are lots of people who want to retrain but don't know what option to choose. Government should ask industry to set up a register, and maybe this would free up the market to work properly.
Audience vote
Every college a digital college: 88% (winner!)
Register of digital experts: 12%
---
Closing keynote and chair's summary
Helen's talk is called "we need a deadline". Back in 1985 the BBC Micro arrived and futurologists hailed it as a gateway to a vast and breathtaking world of knowledge. So why, in 2015, do we still live in such a divided society?
Helen says it just isn't right that 10 million people's lives are poorer and harder because they can't use the internet. We should believe government when it says it wants to transform public services using digital. But we need a better, more ambitious plan to sort this out for every sector of the economy.
So here it is: let's set a deadline of 2020 to eradicate digital exclusion in the UK. Four important points on the way to getting this done:
Stop looking for silver bullets, we know what works and we just need more investment
More from employers, how about Digital Basics accreditation for employers (all staff, contractors and volunteers have basic digital skills) or Investors in Digital People
What about the people who just can't afford a device / broadband? Hard for government, so private sector and third sector need to do something about this
We need a better understanding of the social outcomes and how digital inclusion drives them
And some facts and figures to help. First, the cost of getting the last 10 million people online is £875 million, whereas the benefit is £63 billion. Second, if we do nothing other than what's currently in the pipeline, 6 million people will still be left behind by 2020.
The good news is that the Big Lottery Fund have just announced a new investment in a project led by Tinder Foundation called Reboot UK.
But unless we do more, we are going to fail. Let's not be here in 2020 talking about how we failed. Instead let's get to 100% by 2020, and come back to talk about a digital nation that's equal and inclusive for everybody.
Update: here's the Big Lottery Fund press release.
Update: here's the full text of Helen's speech
Audience Q&A
To what extent are the goalposts for digital skills moving?
Don't believe the goalposts are moving. Tools change but functional skills like communicating don't. We want confident and independent internet users, and the basic digital skills framework is a good proxy for this.
What role for badges and accreditation?
Badges and open badges are a good idea. Perhaps flesh out the idea that every employer will invest in basic digital skills and then the frameworks will follow (viz living wage).
The return on investment is a no-brainer, so what is holding government back?
I just don't know. Hopefully this is the first question Rachel and Martha will ask Ed when they go to see him. And it's doubly frustrating because the savings come so fast! One challenge is that there isn't a minister who owns this agenda fully, and the ones that do have a bit of it don't have the money to pay for it. Until we break down the silos we won't get the investment we need and government won't get the savings.
Unsurprisingly I think Helen is spot on. We all know digital exclusion is a major problem, and we all know we need at least a 10x increase in resources to solve the problem. I think she's right about the silos in government (and that came up earlier in my comments on Ed Vaizey's speech). But I also think part of the problem is that the work of digital inclusion just isn't glamorous enough for today's politicians to really latch on to. Perhaps we need to find new ways to get ministers fired up to tackle this agenda?
Mark has identified a handful of themes from today's discussion:
Digital platforms offer a priceless opportunity for people to connect and interact
Digital is about a revolution (and government doesn't have the faintest clue how to deal with this…)
In terms of digital, if the public sector were a business the shareholders would demand the head of the CEO!
Soft skills are increasingly important in the digital economy
We need inclusion and equality for our economy and for social justice
We need a more honest discussion about the winners and losers from the digital transition
---
That's it from ND15! See you at the DL100 Awards :)